Aldersgate United Methodist Church of San Rafael, is a welcoming faith community. We recognize that all persons are created in God's image. We welcome all persons without regard to age, race, ethnicity, culture, sexual orientation, gender identity, family configuration, religious background, economic status and developmental and physical ability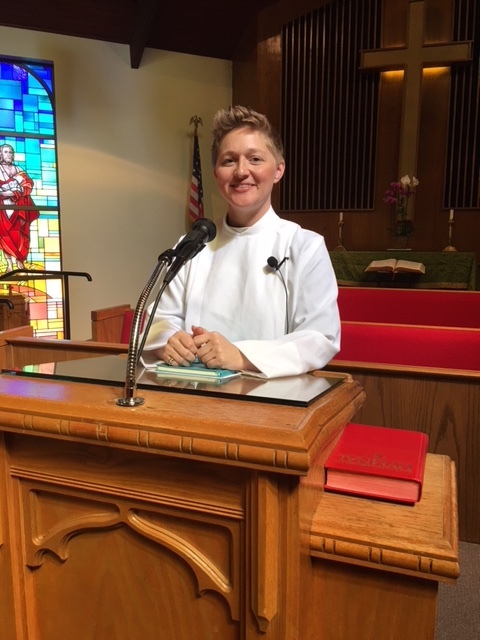 Pastor Chris
Pastor Chris is a provisional elder in the United Methodist Church. She is originally from Piedmont, South Carolina, but she came to Berkeley for seminary and decided to stay! Pastor Chris has a Master of Divinity from the Pacific School of Religion and a Bachelor of Arts in Nonprofit Administration from the University of South Carolina Upstate. She relies upon her Baptist roots and nonprofit experience to inform her approach to Wesleyan teachings and ministry. Her passions include : the creation of new ministries and missional communities, talking about God, belief, doubts, and experiences, getting to know strangers, taking the good news to unexpected places, Grey's Anatomy, kayaking, basketball, softball, true crime documentaries, and Clemson Football. She lives in San Rafael, CA with her two pups Preach and Jubilee.
Email Chris
Her fiance, Marie "Marty", is an ordained minister in the United Church of Christ. She is a hospital and street chaplain in San Rafael, CA.They met in the U.S. Navy Chaplain Chaplain Candidate Program, and both hope to become US Navy Reserve chaplains. Together, they serve because, as the Avett Brothers say, they "came for salvation, we came for family, we came for all that's good, that's how we'll walk away." ...
Find out about the Marin Street Chaplaincy here
CONTACT US
If you have any questions about who we are, contact us below. Our team would love to connect with you.